Malaxis unifolia Michx.
Green adder's mouth
The specific epithet unifolia is the Latin for "one-leafed," in reference to the single leaf of this species.

---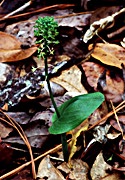 Photo courtesy of Mark Larocque
---
DESCRIPTION: Plant glabrous, 10-20 cm tall, arising from an cluster of slender roots; base of the stem swollen to form a pseudobulb. Leaf solitary, located above the base of the stem, but with a sheathing base that reaches base of stem, ovate-elliptical, 3-10 cm long and 2-7 cm wide. Midrib prominent, forming a keel below. Inflorescence a loose, elongate capitate raceme of green flowers, 20-50 flowered; each flower subtended by a minute lanceolate bract. Sepals ovate-lanceolate to linear-oblong, 1-1.5 mm long and about 0.5 mm wide, green. Petals linear, 1-1.5 mm long and about 0.2 mm wide and colored as the sepals; typically reflexed back along the ovary. Labellum not resupinate, appearing hourglass-shaped or cordate with the apex divided, the division of the labellum forming two teeth with a third, smaller tooth between them; 2-3 mm long and 1-2 mm wide (at widest point), colored as sepals and petals.

SIMILAR SPECIES: Malaxis unifolia could possibly be confused with M. monophyllos; however, the elongate inflorescence of M. monophyllos is distinctly different from the capitate inflorescence of M. unifolia. In addition, the three-toothed labellum of M. unifolia is easily distinguished from the acute labellum of M. monophyllos. In fruit, these taxa can be separated by the length of the pedicels: the pedicels are shorter than the ovaries in M. monophyllos and longer than the ovaries in M. unifolia.

HABITAT: Malaxis unifolia is found in a variety of habitats, but all tend to be characterized by sandy and/or acidic soils. Typical habitats in Wisconsin include dry, sandy pine or oak woods or jack-pine barrens. It has also been occasionally collected in moist swampy woods, typically growing in Sphagnum hummocks.

FLOWERING DATES: July 1-August 20.

POLLINATION: Unknown, although the small size and color of the flowers suggest pollination by small flies, such as fungus gnats.

---
WI DISTRIBUTION:

U.S. DISTRIBUTION:

Go directly to Wisconsin herbarium records.
---
Return to the main LIST of the Orchids of Wisconsin.

Return to the main KEY to the Orchids of Wisconsin.
---